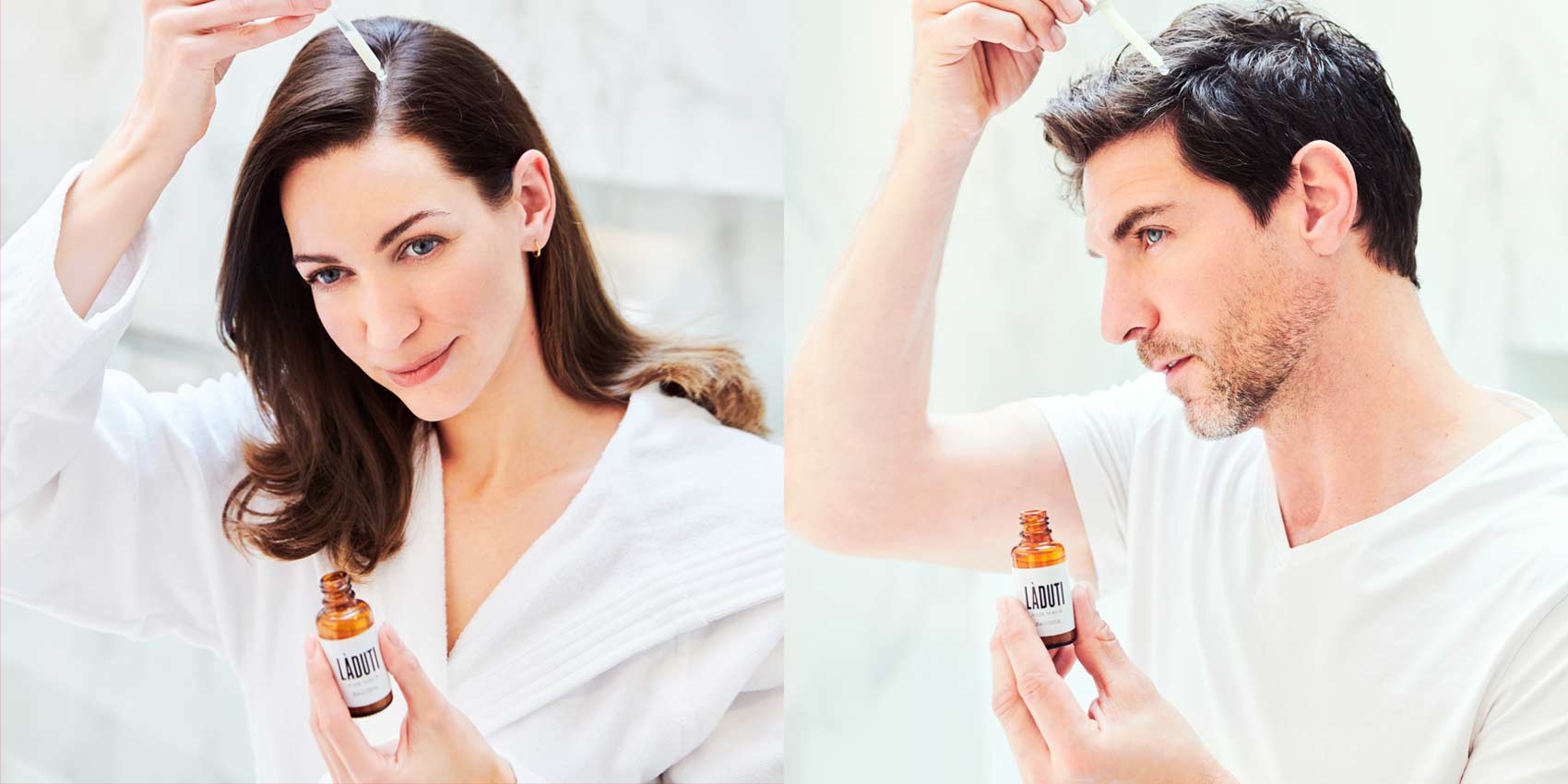 Laduti experiences
Women and men.
Before/After Pictures below.
Hair Growth Serum Laduti Experience: Transparency is important to us. That's why we ask our customers to take before/after pictures and answer our questions. All answers and pictures are original and unchanged. Below, you will find many before and after testimonials with pictures.
These pictures show application successes of people, all of whom do not suffer from disease- or condition-related Hair loss suffered. Even without scientific confirmation of the effectiveness of the remedy, the respective application success can be tested without hesitation due to the natural ingredients without known side effects.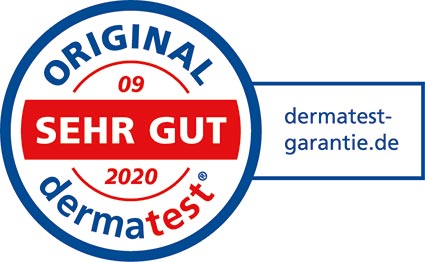 Laduti testimonials:
Year of birth: 1977
How often used: daily
Do you still use it? Yes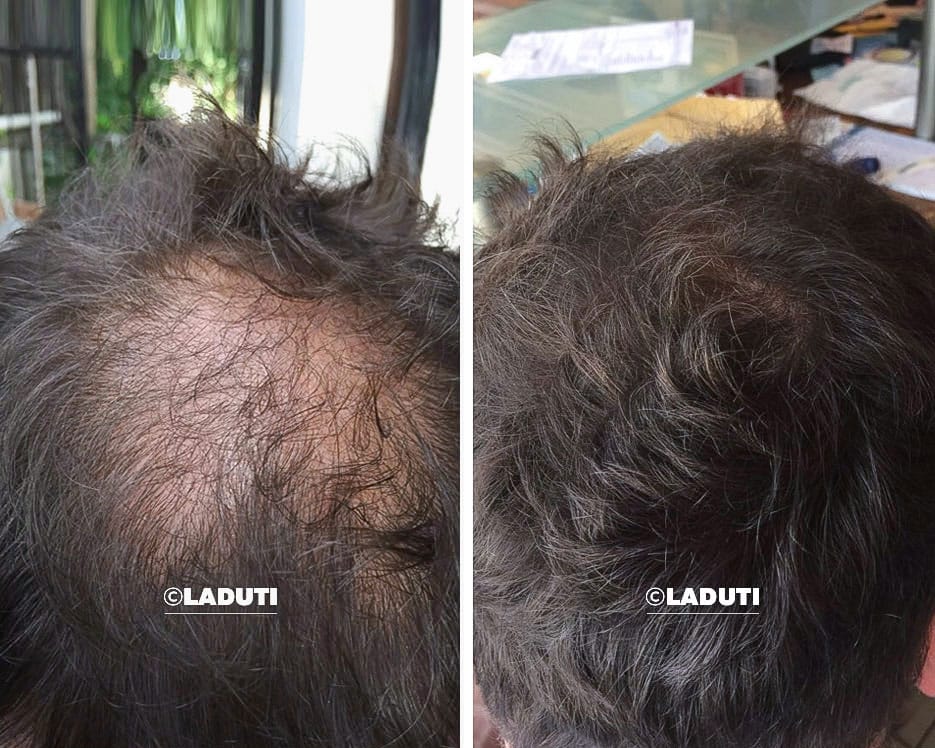 Q&A:
Could the hair loss be stopped? Yes
Has her hair become thicker? Yes
Is the open scalp covered with new hair? Yes
Has the product helped your hair be healthier: Yes
Have those around you (family, friends) noticed a change? Yes
Any side effects? No
Have you ever used hair restorer? Yes
Have you also been satisfied with other products? No
Would you order Laduti again? Yes
Could you rate us - and the previous product from 1-10:
Laduti: 9
Other products: 3
---
Year of birth: 1971
How often used:
daily before sleeping
Do you still use it? Yes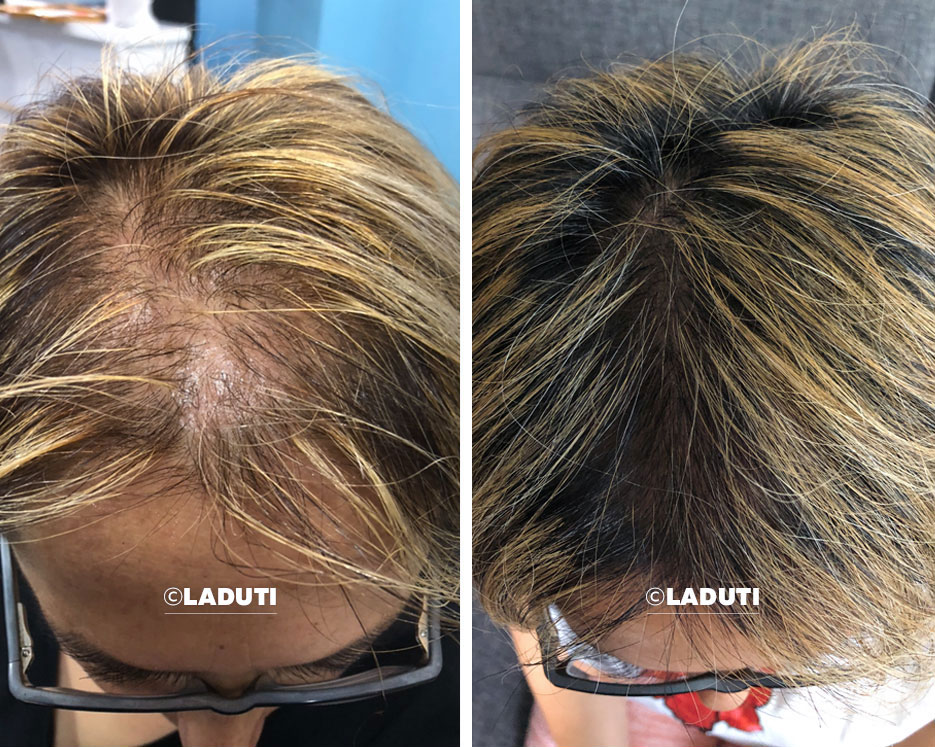 Q&A:
Could the hair loss be stopped? Yes
Has her hair become thicker? Yes
Is the open scalp covered with new hair? Yes
Has the product helped your hair be healthier: Yes
Have those around you (family, friends) noticed a change? Yes
Any side effects? No
Have you ever used hair restorer or hair loss remedies? Yes
Have you also been satisfied with other products? No
Would you order Laduti again? Yes
Could you rate us - and the previous product from 1-10:
Laduti: 10
Other products: 1
---
Year of birth: 1968
How often used:
daily
Do you still use it? Yes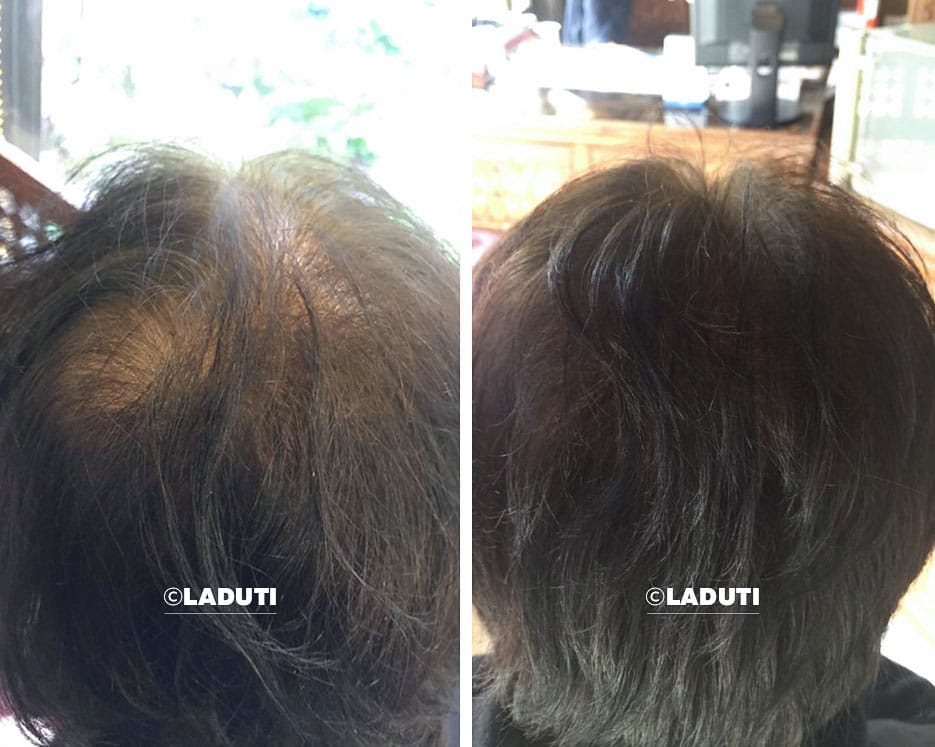 Q&A:
Could the hair loss be stopped? Yes
Has her hair become thicker? Yes
Is the open scalp covered with new hair? Yes
Has the product helped your hair be healthier: Yes
Have those around you (family, friends) noticed a change? Yes
Any side effects? No
Have you ever used hair restorer or hair loss remedies? Yes
Have you also been satisfied with other products? No
Would you order Laduti again? Yes
Could you rate us - and the previous product from 1-10:
Laduti: 9
Other products: 2
---
Year of birth: 1974
How often used:
daily for 10 months
Do you still use it? Yes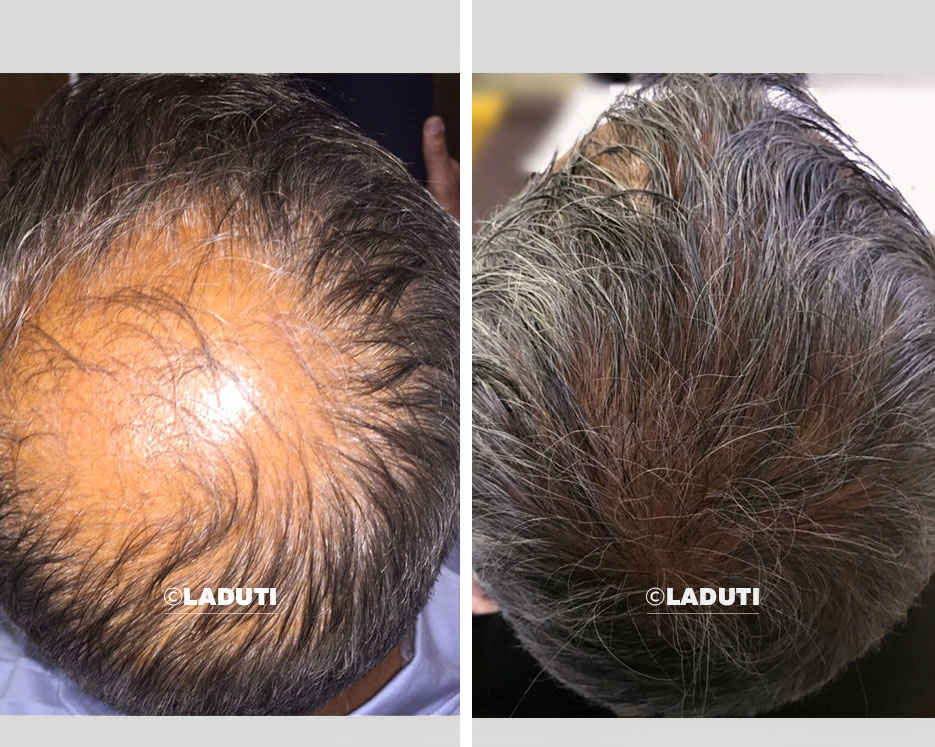 Q&A:
Could the hair loss be stopped? Yes
Has her hair become thicker? Yes
Is the open scalp covered with new hair? Yes
Has the product helped your hair be healthier: Yes
Have those around you (family, friends) noticed a change? Yes
Any side effects? No
Have you ever used hair restorer or hair loss remedies? Yes
Have you also been satisfied with other products? No
Would you order Laduti again? Yes
Could you rate us - and the previous product from 1-10:
Laduti: 9
Other products: 2
---
Year of birth: 1974
How often used: daily
Do you still use it? Yes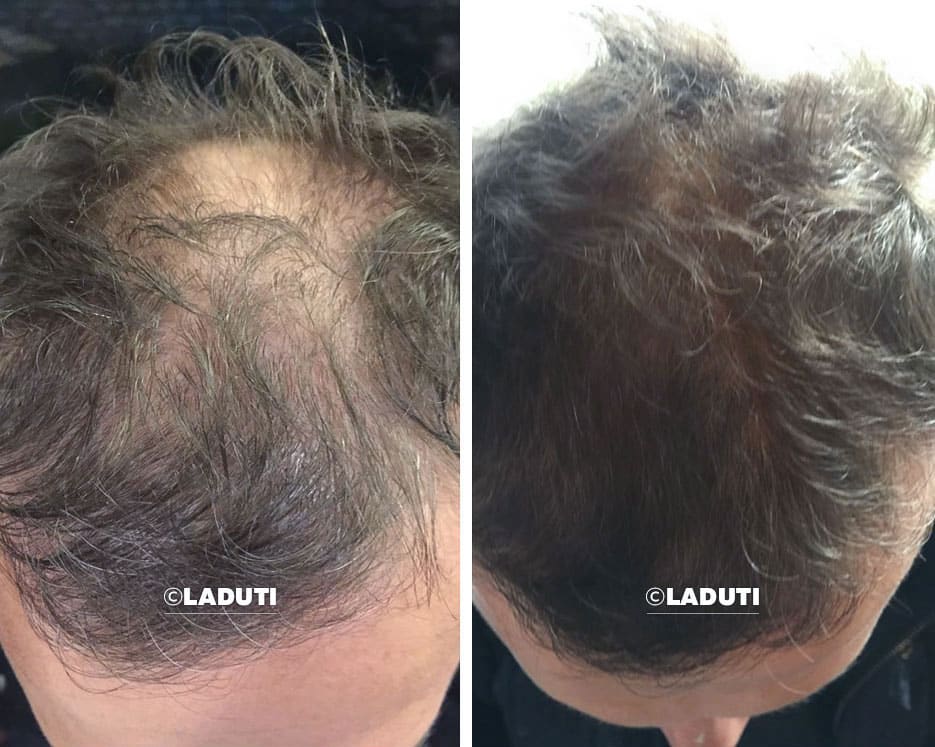 Q&A:
Could the hair loss be stopped? Yes
Has her hair become thicker? Yes
Is the open scalp covered with new hair? Yes
Has the product helped your hair be healthier: Yes
Have those around you (family, friends) noticed a change? Yes
Any side effects? No
Have you ever used hair restorer? Yes
Have you also been satisfied with other products? No
Would you order Laduti again? Thrilled! Yes
Could you rate us - and the previous product from 1-10:
Laduti: 10
Other products: 1
---
Year of birth: 1982
How often used: 1x daily before sleeping
Do you still use it? No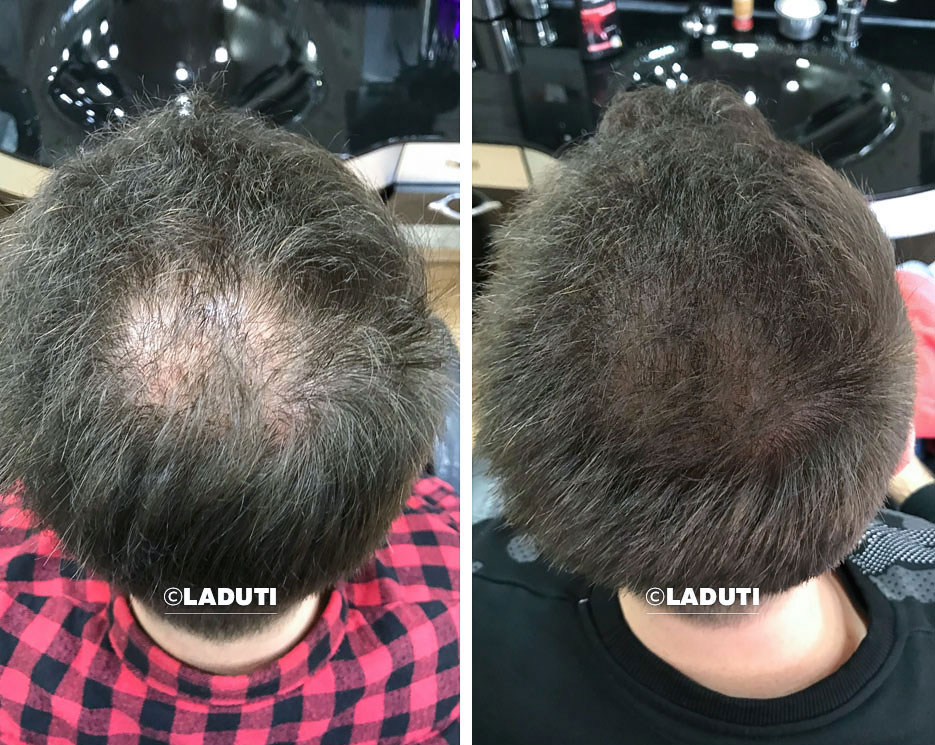 Q&A:
Could the hair loss be stopped? Yes
Has her hair become thicker? Yes
Is the open scalp covered with new hair? Yes
Has the product helped your hair be healthier: Yes
Have those around you (family, friends) noticed a change? Yes
Any side effects? No
Have you ever used hair restorer? Yes
Have you also been satisfied with other products? No
Would you order Laduti again? Yes
Could you rate us - and the previous product from 1-10:
Laduti: 10
Other products: 2
---
Year of birth: 1980
How often used: daily
Do you still use it? No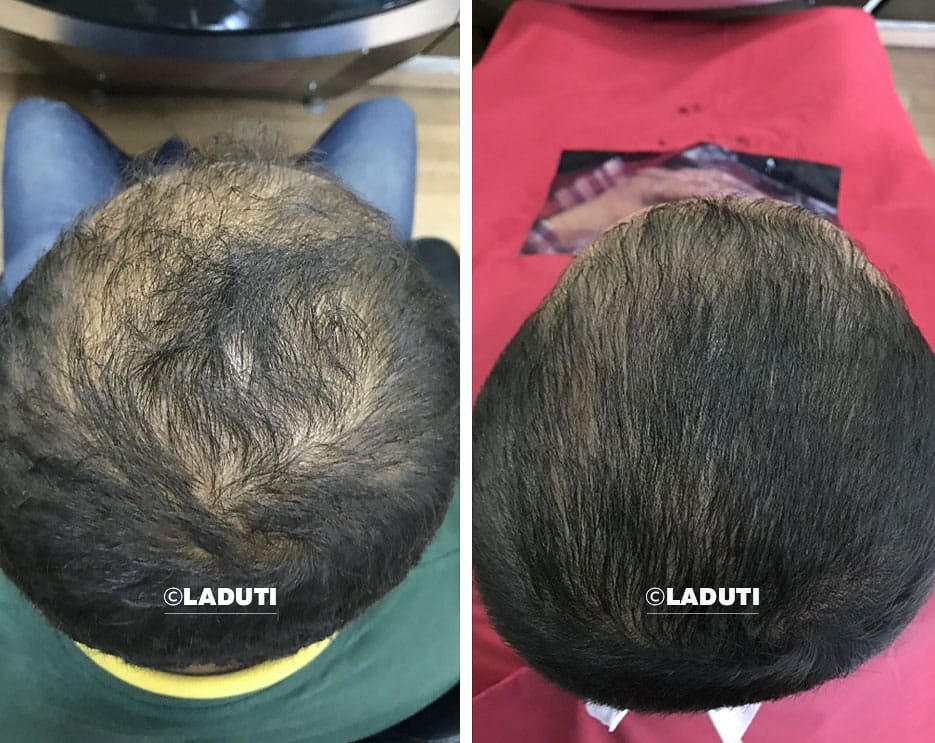 Q&A:
Could the hair loss be stopped? Yes
Has her hair become thicker? Yes
Is the open scalp covered with new hair? Yes
Has the product helped your hair be healthier: Yes
Have those around you (family, friends) noticed a change? Yes
Any side effects? No
Have you ever used hair restorer? Yes
Have you also been satisfied with other products? No
Would you order Laduti again? Yes
Could you rate us - and the previous product from 1-10:
Laduti: 9
Other products: 3
---
Year of birth: 1971
How often used: daily
Do you still use it? Yes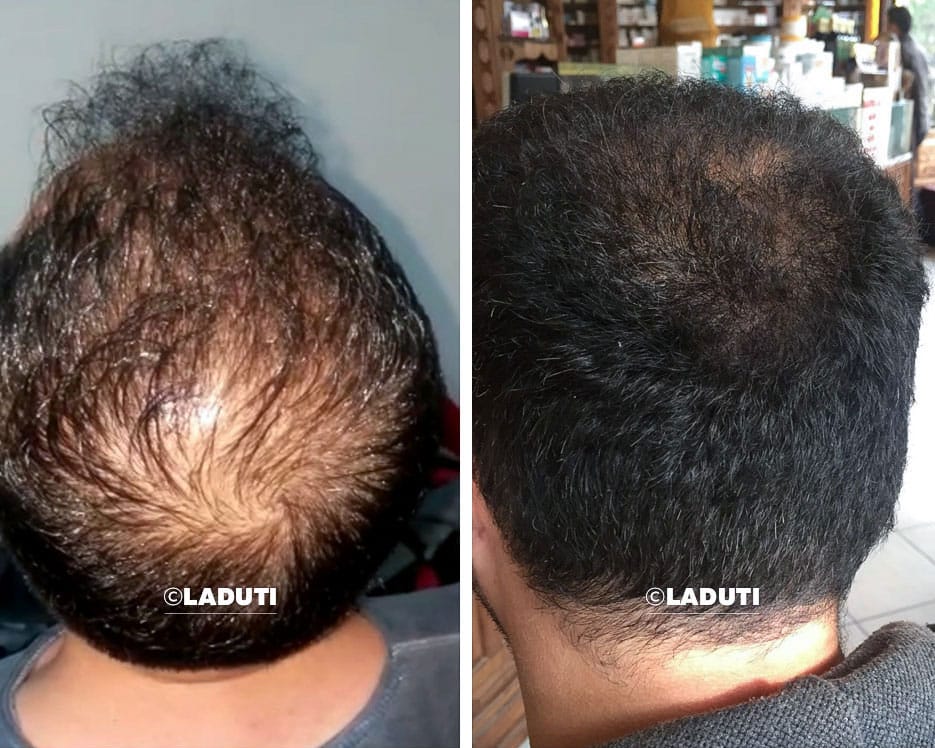 Q&A:
Could the hair loss be stopped? Yes
Has her hair become thicker? Yes
Is the open scalp covered with new hair? Yes
Has the product helped your hair be healthier: Yes
Have those around you (family, friends) noticed a change? Yes
Any side effects? No
Have you ever used hair restorer? Yes
Have you also been satisfied with other products? No
Would you order Laduti again? Thrilled! Yes
Could you rate us - and the previous product from 1-10:
Laduti: 10
Other products: 3
---
More about Laduti
Learn more about Laduti and start into a hairy future
All product reviews